Click on any image below to view larger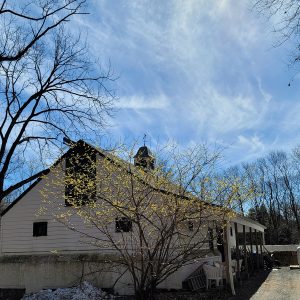 Fragrant flowers that appear in the garden in cold, snowy January are a most welcome presence when we least expect it. The mild weather we experienced late last fall has prompted three special plants to flower at Greenwood Gardens early this winter and they are a living testament that spring will return. Since we can expect cool, if not cold weather to remain with us, all three of these floriferous plants will most likely provide beauty and fragrance in the weeks ahead.
Wintersweet, Chimonanthus praecox, a tall deciduous shrub growing in Greenwood's barnyard, flowers every winter (photo above and at left). The glowing yellow, waxy flowers clustered on its upright, ten-foot-tall branches emit a delightful, lemony-spice perfume – and buds continued to open even as a thick blanket of snow embraced the gardens this month. On a mild day, the enticing aroma wafts throughout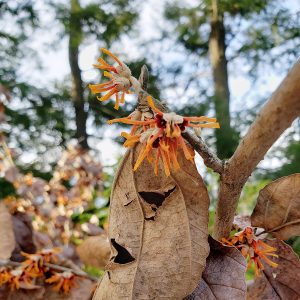 the barnyard and draws one to examine the small but cheerfully, sunny petals.
Native to forested regions of China, wintersweet was introduced to cultivation in 1766. Green, glossy, oval leaves will develop by summer and turn a pleasant, soft yellow in autumn. Known to be winter hardy to zone 7, it can thrive in our zone 6 region when planted where it will be protected from desiccating winter winds and the hardest frosts. A spot near a south-facing wall with a garden bench nearby would be an ideal location and allow one to bask in its invigorating scent on a sunny winter day.
This and other native witch hazels have a long history of medicinal use by Native Americans. Extracts from the plants bark and twigs continue to be blended with alcohol and used as a first aid for abrasions and skin irritations. According to the University of Arkansas Division of Agriculture, "The name witch hazel is a derivation from old English 'wice' or 'wiche' which means pliant or bendable. Early English settlers found that the branches of the witch hazel could be used to douse or divine for underground water much as the hazel bush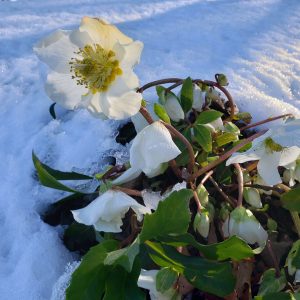 (Corylus) was used back in England."
Greenwood is home to a large collection of hellebores planted throughout the gardens. As the photograph at bottom left illustrates, these evergreen perennials can emerge from deep snow even as the garden remains frozen. In mild winter regions, hellebores can flower in December. The appearance of a sparkling, lightly fragrant flower during the holidays and through the winter is a most heartening sight and gave rise to their common names, Christmas Rose and Lenten Rose. Featured here is the lovely cultivar Helleborus niger 'Jacob' with more than a dozen healthy looking buds.
Photo credits: Wintersweet, Vicki Johnson; Witch Hazel and Hellebore, Sonia Uyterhoeven