When real estate magnate Joseph P. Day (1874 – 1944) commissioned his Short Hills, New Jersey neighbor, William Whetten Renwick (1864–1933), to design a garden estate in 1912 on the property that would become Greenwood Gardens, he was enlisting the creative vision of a multi-talented architect, painter, sculptor, and landscape designer. In addition to being a member of the American Institute of Architects, Renwick was a longtime member of the Architectural League of New York and exhibited his sculptural decorations in the League's annual exhibitions. He was also a member of the National Sculpture Society, and the Salmagundi Club, one of the country's oldest arts organizations.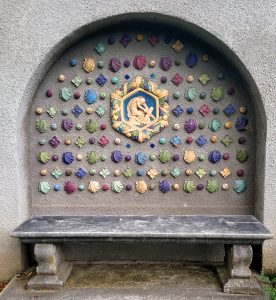 Greenwood's founder, Peter P. Blanchard III writes in his book, Greenwood; A Garden Path to Nature and the Past, "Day and William Renwick proved to be an innovative and synergistic pair. [The project] provided ample opportunity for Renwick to display his talents in architectural design and decoration," including, landscape historian Judith B. Tankard suggests, the designs for the brightly colored Rookwood ceramics he used to decorate the historic buildings and garden walls. One of Greenwood Gardens' most striking and unique features, the brightly colored Arts and Crafts era ceramics were created by artisans at the Rookwood Pottery Company of Cincinnati, Ohio. Given Renwick's love of painting and sculpture, it is easy to imagine how he would enjoy collaborating with the most highly esteemed art ceramics establishment of the time.
Founded in 1880 by pioneering artist Maria Longworth-Nichols, the Rookwood Pottery Co. was the first female-owned manufacturing company in the country and launched the art pottery movement in America. Employing the talents of renowned artists, Rookwood soon garnered international acclaim for its beautifully glazed vases, bowls, and plaques, rivaling centuries old European and Asian ceramic arts companies. In 1893, Rookwood won the grand prize in ceramics at the Chicago World's Fair and seven years later received the Grand Prix for ceramics at the 1900 Paris Expo, establishing it as the finest art pottery studio in the world. Two years later, the company introduced a line of architectural ceramics for custom installations in grand homes, hotels, and train stations, and orders poured in. Architects worked with Rookwood artists to create entire rooms such as the historic Rathskeller Room in Louisville, Kentucky's Seelbach Hotel, the vaulted ceiling of the Della Robbia Room and Bar in New York's Vanderbilt Hotel, and several of New York City's subway stations.
After suffering a reversal of fortunes due to the stock market crash of 1929, Joseph P. Day was forced to sell his estate and it slowly fell into decline. As a result, many Rookwood ornaments were removed, with some saved by Day family members or sold. Even so, with over 750 individual pieces, Greenwood Gardens is home to one of the largest outdoor collections of Rookwood ceramics, most of which are on public view. These colorful, individual works of art featuring fantasy figures, faces, shells and animals continue to radiate a playful charm nearly a century later. From time to time, we issue challenges to visitors to locate a particular piece on the property and win a prize!