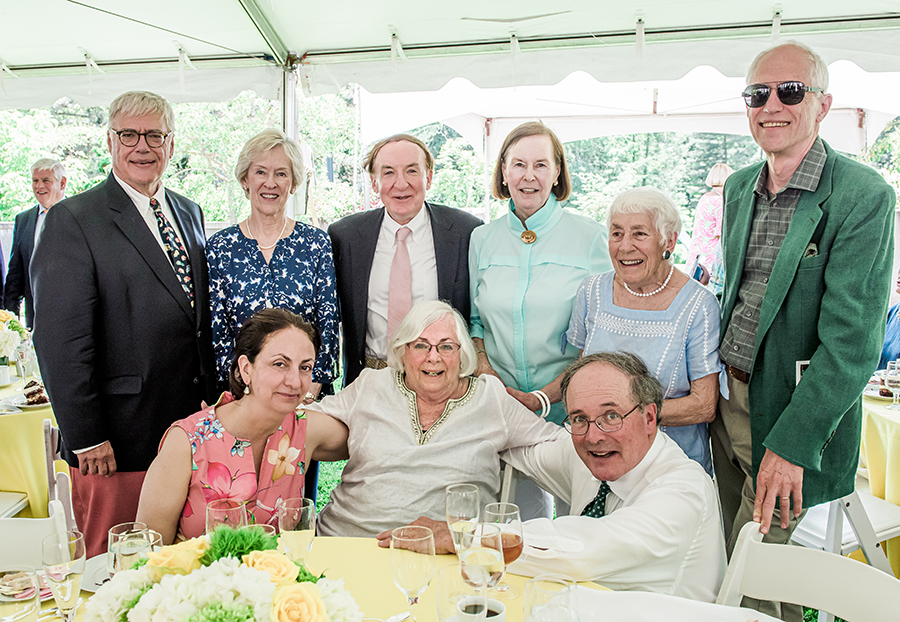 On a sun-filled day in one of New Jersey's most bucolic settings, nearly 200 guests gathered at Greenwood Gardens to honor long-time friend and supporter Patti Donovan for her generosity and dedication to our historic oasis. Thursday, June 6th marked the occasion of Greenwood's 3rd Annual Spring Luncheon for which a record $52,000 was raised to benefit the Grow Greenwood Fund. The Fund supports garden maintenance, short-term structural improvements, and a diverse array of educational and entertaining programs for visitors of all ages.
Surrounded by our beautiful gardens, guests enjoyed lunch and a musical tribute to Patti provided by Jay Dougherty and his Greenwood Gardens Jazz Band, featuring soloist Carolyn Montgomery.  Throughout the festivities, tribute was paid to Patti and her more than fifteen years of support by co-founders Sofia and Peter P. Blanchard III who declared, "Patti, thanks for all you do and have done to bring a romantic but daunting vision to an evergreen reality!" Others paying tribute included past Luncheon honoree Louise Moos, Executive Director Abby O'Neill, Deputy Director Rich Murphy, and luncheon co-chairs Nancy Dougherty and Pat McGinley.
Special thanks to Silent Auction Chair Arthur T. Vanderbilt II and our enthusiastic Benefit Committee whose members include: Elaine Becker, Sofia Blanchard, Kathleen Bourke, Mary-Joan Buckley, Unni Cooper, Nancy Dougherty, Anna Fisch, Diane Genco, Geralyn Hagemann, Susan Johnson, Cynnie Kellogg, Linda Landy, Jennifer & Anthony Leitner, Sally Lepow, Ruth MacPherson, Marta McDowell, Helen McGinley, Pat McGinley, Mary McNett, Lynn Magrane, Louise Moos, Tina O'Connell-Duggan, Cynthia Phelan, Marilyn Pfaltz, Lezette Proud, Cynthia Samson-Birney, Peggy Shilling, Arthur Vanderbilt, Karlyn Volk, Judy Yarnell.
Click on a photo to view slide show: